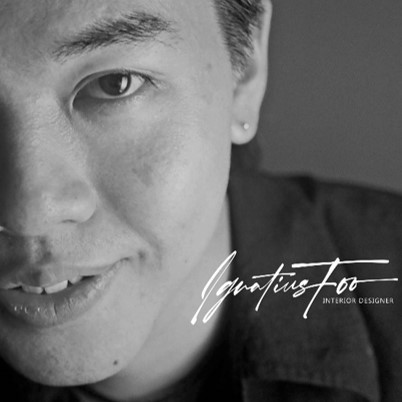 IGX Design Studio,
IGX Design Studio, setup by Ignatius Foo in 2008, is the breakaway from STAX Design Studio, where he was the main co-founder and Principal designer which was established in 1999.
IGX Design Studio continues to provide complete Professional Interior Design and Consultation services, in the areas of Residential, Commercial Retail and F&B projects.
Background
A Graduate from Lasalle School of The Arts in 1995, Ignatius entered the Interior Design industry during its infant stages in Singapore. Now with over 25 years of Passion and Experience behind him, having worked overseas in places like Germany under Sieger Design (Product Design), and in Beijing China for CDI Pte Ltd (Exhibition Design), Ignatius is still very passionate about every design project he undertakes.
In the course of his career, Ignatius has gained vast experience working in many areas of Interior Design discipline locally and overseas, from residential interiors, exhibition booth design, commercial shops and offices to the Food and Beverage sector. With this, he is able to provide professional advice and consultation on many areas of design projects.
Services
There is no standard design template at IGX design studio, as every project is viewed as unique and approached foremost, with the client's needs and requirements. Ignatius not only handles the design concepts of his projects, but personally develops the technical details required in each project. "The fine details are key to every aspect of a successful design intent." Ignatius is very meticulous in this aspect. With hands on approach, he strives for perfection for each and every project, from ideation, technical matters, to on-site built, to deliver every project to the highest standards, and on time.
Some of Ignatius's projects in Singapore include:
The Auld Alliance Whisky Bar, inception in 2010, considered as one of the Premier Whisky Bars in this region.
Taratata Bistro, a French restaurant, with careful details that reflect the quaint ambience of bistros in France. (Wine and Dine – Top Restaurant 2019 to 2020)
Rhubarb Le Restaurant (1 Michelin Star), a French restaurant in the Duxton Hill area, which reflects a warm and elegant interior whilst maintaining the charming elements of the conservation shophouse.
Meta Restaurant (1 Michelin Star), a French-Inspired restaurant, with an Asian Twist.
There is an interesting philosophy behind IGX Design Studio, and its summarised in a word "WOFF".
Weaving Originality into Form and Function. This is the essence and passion that Ignatius endeavours to achieve in every project for his clients.