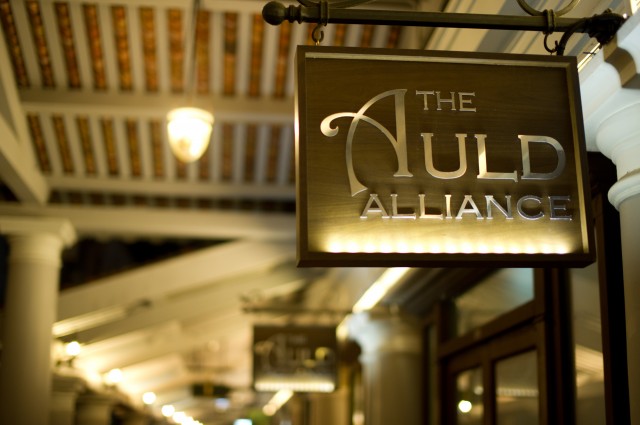 My first meet with Emmanuel for lunch, was nothing short of interesting conversations, about his deep passion for Whisky appreciation and collection. His vast knowledge of whiskies from around the globe was fascinating, then I saw his personal collection and was in awe. Truly a connoisseur of Whisky.

By the end of lunch, I was engaged to undertake this prestigious project for Emmanuel, "The Auld Alliance Whisky Bar". His brief to me was simple…'make it the best whisky bar in the region'.

My immediate thought was to use brass, wood, mirrors, lots of mirrors to create a visual impact in the space.Those initial ideas was carried through in the final build.
The location was in the enclave of CHIJMES, 3 units side by side, situated right by one of the entryway to CHIJMES which gave the bar, great foot fall.
These units had high pitched roofs, which was covered up previously, but the decision to remove the false ceilings and exposed the roof rafters and structure, was key to not only appreciating the original architecture of the conservation building, but providing the charm and cosy feel for the gentlemen's whisky bar.

The middle unit would house the main bar, to the left would be a cosy, casual seating area filled with Chesterfield leather sofas, creating the  deep richness of texture and tone, set against a walnut wood wall clad. To the right was the private area, for members, with a dedicated cigar smoking room, enclosed by full height glass to the roof. The use of glass for the Cigar room was to male it feel spacious and open, in an otherwise closed room