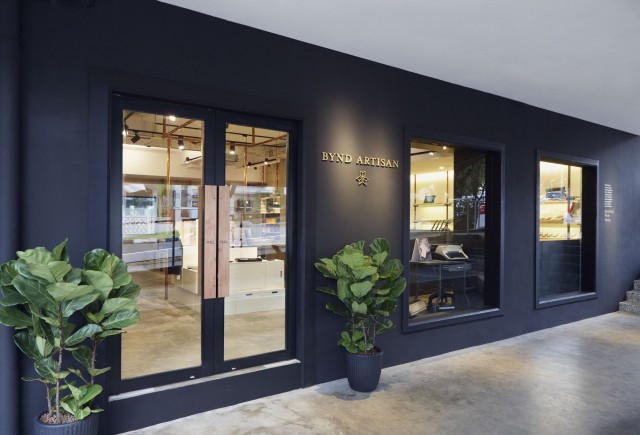 The Bynd Artisan flagship shop,  in the heartlands of Singapore Chip Bee enclave, was completed in 2015. This shop went through a  complete transformation from a former French Restaurant,  Au Petit Salut, which happens to be my client as well.
A coincidental meet with James Quan on site, as I was handling the reinstatement works, led to a long term working relationship with Bynd Artisan. Spanning over the next 4 years, from its inception store at Chip Bee,  to its second retail store at Raffles City in 2017, third shop at Takashimaya B1-02A also in 2017. In 2018 Bynd Artisan opened  its forth and fifth shop, at ION Orchard to Takashimaya B2 respectively.
Working closely with brand consultant &Larry on the Raffles City store, Bynd Artisan went through a transition stage where new materials was introduced, but still maintaining the essence of the brand.
IGX design studio subsequently managed the Interior Design Detailing, Built and Project Management of the whole series of Bynd Artisan arteliers, which went through a few more transitions in design detailing. Each store further developing a unique identity of its own, yet remaining recognisable as a Bynd Artisan artelier.
CATEGORY : Retail Interior Design
PROJECT : Design, Built and Project Managed by IGX Design Studio.
BRANDING : &Larry