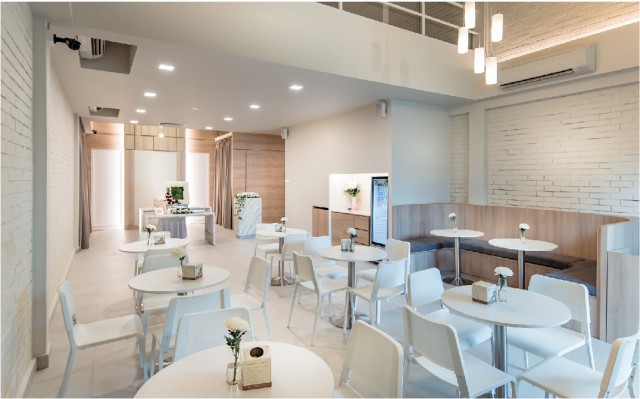 Often when we talk about death, a sombre emotion sets in our hearts and minds. A Funeral often draws to mind, sadness and dark times within. I have often reflected about the 3 attributes of our existence…Birth, Life and Death, however I would prefer to use the word "Afterlife" in place of death. This sets a more uplifting tone at the end of a person's journey on earth.
Having this opportunity to work on the transformation, for this Memorial Hall has been a great experience for me. I had 3 initial concepts for this hall, the first was "The Windows of Life" – Where the backdrop would consist of a series of window openings, framed much like an art piece. Each Opening reflecting a time in the Person's life, as he or she journeys into the Afterlife.
The Second concept was "Circles of Life"- Drawing inspiration from the religious idealogy of a halo, this idea is taking the view of the person passing on, as he or she is laid to rest, 3 lighted circles of different diameter suspended from the ceiling at different heights, representing the 3 attributes of existence. As the soul is laid to rest, the spiritual being is taking a final journey through the Rings of Life.
The third concept was "Steps of Life"- A series of vertical protruding steps of varying heights, forms the backdrop for the coffin. The idea of the step like structure is to reflect upon the Happy and Peaceful moments of the person's journey through life. This was the concept that was adopted for the Memorial Hall.