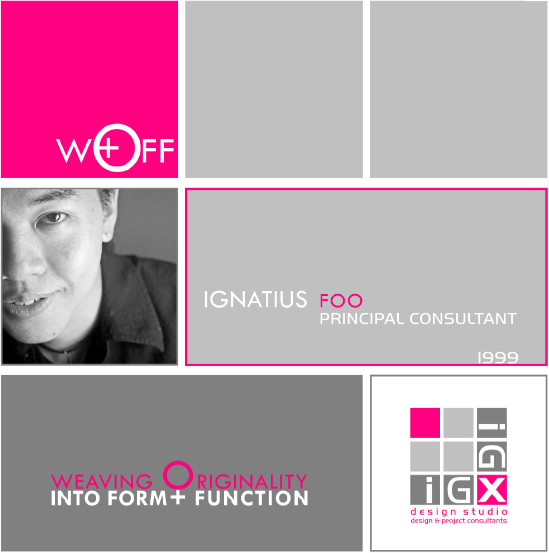 IGX Design Studio,
setup by Ignatius Foo in 2008, is the breakaway from STAX Design Studio, where he was the main co-founder and Principal designer which was established in 1999.
IGX Design Studio continues to provide complete Professional Interior Design and Consultation services, in the areas of Residential,  Commercial Retail and F&B projects.
Background
With 20 years of Passion and Experience behind Ignatius, having worked overseas in places like Germany under Sieger Design, touching on product  design, and in Beijing China for CDI Pte Ltd, on exhibitions and commercial designs, he continues to explore the boundaries of Design.
In the course of his career, Ignatius has gained vast experience working on many areas of design, from residential interiors to exhibition booth design, commercial shops and offices and to the Food and Beverage sector, with this, he  is able to provide in depth advice and consultation on many areas of design projects.
Services
He offers personalised and professional services to his clients, and is involved in every stage of the design process from concept development with his clients, to development of details and selection of materials, to the execution of the project.
Some of Ignatius's notable projects in Singapore include:
The Auld Alliance Whisky Bar, inception in 2011, considered as one of the Premier Whisky Bars in this region.
Taratata Bistro, a French restaurant, with careful details that reflect the quaint ambience of bistros in France.
Rhubarb Le Restaurant, a French restaurant in the Duxton Hill area, which reflects a warm and elegant interior whilst maintaining the charming elements of the conservation shophouse.
There is an interesting philosophy behind IGX Design Studio, and its summarised in a word "WOFF".
Weaving Originality into Form and Function. This is the essence and passion that Ignatius endeavours to achieve in every project for his clients.